Browse our site
Browse member's work
You are here:
Papers in proceedings
Elsa Carvalho, Jorge Cruz and Pedro Barahona, Safe Reliability Assessment through Probabilistic Constraint Reasoning, Proceedings of ESREL 2014 - XXIV European Safety and Reliability Conference, Wroclaw, Poland, September 14 - 18, Safety and Reliability: Methodology and Applications, CRC Press, ISBN 978-1-138-02681-0, Pag. 2269-2277, September 2014.
Elsa Carvalho, Jorge Cruz and Pedro Barahona, Probabilistic constraints for nonlinear inverse problems, Proceedings of CP 2014 - 20th International Conference on Principles and Practice of Constraint Programming, Lyon, France, September 8-12, Lecture Notes in Computer Science, Springer, Vol. 8656, ISBN 978-3-319-10428-7, Pag. 913-917, September 2014.
Marco Correia, Jorge Cruz and João Alexandre Leite, On the Efficient Implementation of Social Abstract Argumentation, in: Torsten Schaub, Gerhard Friedrich and Barry O'Sullivan (eds), ECAI 2014 - 21st European Conference on Artificial Intelligence, 18-22 August 2014, Prague, Czech Republic - Including Prestigious Applications of Intelligent Systems (PAIS 2014), Frontiers in Artificial Intelligence and Applications, IOS Press, Vol. 263, ISBN 978-1-61499-418-3, Pag. 225-230, August 2014.
CENTRIA member
Jorge Cruz
Efective member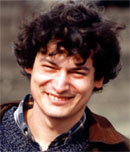 School: FCT/UNL
Country: Portugal
email: jc@di.fct.unl.pt